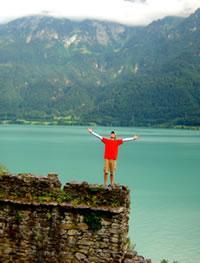 Stephen
Stephen Alexander is a native Texan from the small town of Burnet. He is currently attending school at Southern Methodist University in Dallas, TX where he studies Business Marketing, Spanish and Cultural Anthropology. He has traveled and studied abroad extensively (including Oxford University in England) and connected this experience to further study in Madrid, Spain. Stephen explored Europe has traveled far and wide independently.
Helping others has always been a large part of Stephen's life. Whether volunteering in children's homes in the Dallas community or tutoring Spanish students, Stephen does his best to help out those around him succeed. One of his most memorable volunteer experiences was a mission trip two hundred and fifty miles into Mexico in the poverty-stricken city of Torreón where he worked to improve the appearances of local children's homes. He has also worked with Habitat for Humanity, PRIDE (Ponies Reaching Into Dallas Elementaries),SPARC (Students Promoting Awareness, Responsibility and Citizenship), Relay for Life, Dallas Ministries and the Green Elves before giving his time to Globe Aware.
Stephen is creative, energetic and passionate about cultural awareness. His dedication is evident and his work ethic shines when presented with an obtainable goal. Stephen plans to diversify his background even more as he continues in his pursuit of excellence this summer in Costa Rica.