Hockaday travel program connects with alumna Kimberly Haley-Coleman's organization Globe Aware
By Megan Philips
Features Editor
THE HOCKADAY SCHOOL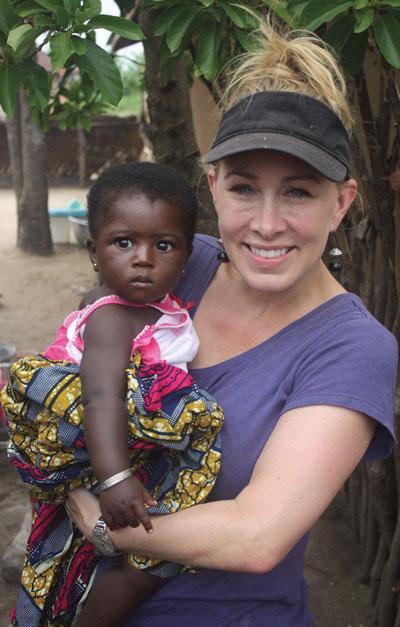 When alumna Kimberly Haley-Coleman '88 was a Hockaday student, she was involved in many local community service projects from candy stripping at hospitals to working in women's shelters. Today, she is giving Hockaday the opportunity she never had: to do community service abroad.
Haley-Coleman found interest in other cultures and languages from a young age, and her five years at Hockaday "helped wet [her] appetite for learning about and understanding other cultures," Haley-Coleman said.
After graduating, Haley-Coleman continued her education in international cultures and held many jobs that required her international relations skills. She received her masters in French and Art History and got her MBA in international business.
"It was all related to other cultures from the earliest I can remember, and Hockaday was certainly an integral piece of that," Haley-Coleman said.
From this foundation, Haley-Coleman founded Globe Aware in 2000.
This past summer, 13 Hockaday Upper School students traveled to Peru, in connection with Globe Aware, to expand their learning about other cultures through hands-on service while visiting two communities, San Pedro and Cuzco.
Junior Allie Charlton, one of the students who traveled with the program, found the organization's guidance crucial to her trip experience.
"[Globe Aware] had a lot of connections within the cities because people had gone there before us, people were waiting for us to help. If we had just gone to Peru and said
'Oh, we are going to go help this place" no one there would have known us. It was nice because they already had an established organization there that we could help without intruding," Charlton said.
According to Haley-Coleman, around 15 to 25 percent of those who participate in Globe Aware programs outside of their school community are teenagers.
"I think it's critical that in order to be a really involved, successful person, I feel it almost requires that one be a globally aware citizen. It helps find resolutions, on a global scale, to conflicts that are important, whether it's political peace or bringing groups and different nationalities together to find a solution to problems that we all face," Haley-Coleman said, "But it's also a huge source of joy for someone for their whole life, to have those wonderful moments of cultural understanding."
Community Service Director Laura Day felt that students learned similar valuable lessons from their experiences with Peruvian culture.
"I think the girls learned what you really need to be happy. I think we learned about material possessions and what people, in general, need to be happy, because we saw people who didn't have anything who were having happy and wonderful lives," Day said.
The Peru trip, still in connection with Globe Aware, is offered again in Hockaday's travel program for next year. For Haley-Coleman, this recurring trip connects the school community in which she formed the foundations of her passion for international cultures, and the organization she founded to facilitate this passion for others.
"It's such a wonderful, full circle feeling of kind of a bit alpha-omega to get a chance to come back to a place that was so instrumental in shaping my life," Haley-Coleman said. "It's such a wonderful feeling. I'm so grateful."
Other projects Globe Aware is organizing include assembling wheelchairs in Cambodia, building adobe stoves in rural Peru, installing concrete floors in single-mother households in Guatemala and working with elephants in Thailand.
Students who are interested in getting involved with Globe Aware besides through a travel program can apply for internships. Globe Aware will find ways to help based on the applicant's interests and strengths.
"We are really open to creating various internships and volunteer opportunities that can be done either at home or in our offices as well. We try and structure it based on something that the student is already interested in," Haley-Coleman said.
Contact Haley-Coleman at kimberly_haleycoleman@yahoo.com to learn more about the internship opportunities. F
Megan Philips
Features Editor