David Conrads, correspondent for The Christian Science Monitor, recently wrote an inspiring profile on Caroline Boudreaux who works with India's orphans and started The Miracle Foundation.
Caroline Boudreaux is a passionate, effective advocate for India's orphans
The Miracle Foundation dramatically improves standards in a growing network of orphanages.
By David Conrads, Correspondent
Austin, Texas — Caroline Boudreaux was not looking for her life's work back in 1999 when she set out with a friend on a yearlong trip around the world. But she found it in a remote village of thatch-roofed mud huts in the Indian state of Odisha.
Invited to dine at the home of a local family, Ms. Boudreaux was completely unprepared for what she encountered: more than 100 filthy, emaciated orphans, wide-eyed with longing, and so starved for affection that they clamored simply to touch the two American visitors. While the adults ate chicken, the children were given rice and sugar.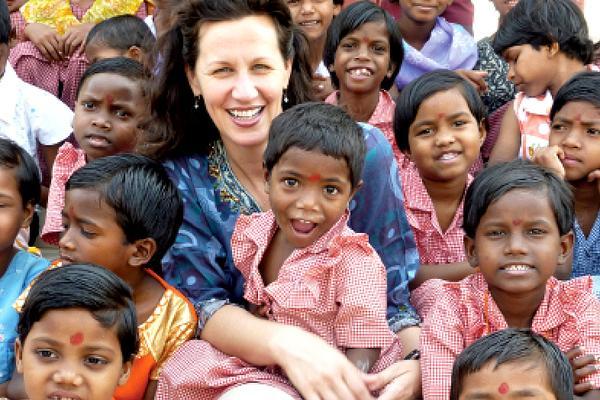 The children slept in crowded dormitories on beds made of wooden planks – no mattresses, pillows, or blankets. When Boudreaux put one little girl to bed, who had fallen asleep in her lap, she could hear the child's bones hit the boards.
"It was like putting her down on a picnic table," she says. "The whole experience was overwhelming. They were the sweetest, saddest children I had ever seen in my life. I knew I had to do something."
For several years prior, Boudreaux had been actively seeking a new direction in her life. Though not yet 30 years old, she seemed to have it all. The sixth of seven children from a middle-class family in Lake Charles, La., she was selling advertising for a network television station in Austin, Texas, and making more money than she ever imagined possible.
She drove a nice car, lived in a beautiful condominium in one of the city's best neighborhoods, and led an active social life. By any measure of material success, Boudreaux had made it.
Except for one nagging problem: She found her job unfulfilling and its material benefits less and less satisfying.
"I felt empty inside," she recalls. "I felt like I was being wasted. I knew in my heart that I had a higher purpose that I wasn't fulfilling."
Her yearlong sabbatical was not intended as a way to find that higher purpose, but find it she did. She knew when she returned to Austin in the fall of 2000 that she would devote her time and energy to relieving the plight of orphans.
Boudreaux started The Miracle Foundation that year as a typical international adoption agency, matching available children in India with Americans desiring to adopt. She changed her approach when she discovered that the process of international adoptions in India can be highly corrupt, involving a never-ending string of fees and bribes. She also realized that she could only facilitate about 20 adoptions a year. At that time, there were some 25 million orphans in India, with about 1 million new ones being added each year.
She also realized that it was the orphans who were not being offered for international adoption, who had no realistic alternative to growing up in an orphanage, who needed help the most.
Boudreaux entered into a partnership with an organization in India and began building orphanages from the ground up, training house mothers and setting high standards for nutrition, hygiene, emotional and physical care, and education.
The Miracle Foundation was very successful at building high-quality orphanages. Boudreaux knew she was onto something good, but didn't know how to make it grow.
In 2009 she hired Elizabeth Davis, a veteran entrepreneur in Austin's bustling high-tech world, to be the organization's chief operating officer. In bringing her business savvy to bear on The Miracle Foundation, Ms. Davis immediately questioned why it was building new orphanages when there were already thousands operating in India.
So Boudreaux changed her approach again. She and Davis built a system for finding existing orphanages that were willing to partner with The Miracle Foundation.
Inspired by the 1989 United Nations Convention on the Rights of the Child, they created the Miracle Foundation's Rights of the Child, which includes the right to basics such as health care, nutrition, clean water, a stable environment, and a good education.
With these codified rights as benchmarks, they set up measurable standards and assessment tools, both to gauge an orphanage's progress and to demonstrate the success of the foundation to prospective donors.
Orphanages that partner with The Miracle Foundation are provided with various kinds of assistance to help them bring their operations up to a high standard – from trained house mothers to a computer loaded with accounting software. While the foundation supplies support, employees of the orphanages are all Indian, as are the social workers who make periodic checks, and the country head, who oversees the operation.
Most important, during the first phase of partnership, the orphanage is given the resources to bring the ratio of children to house mothers to 20:1. (The norm in Indian orphanages is about 80:1.) When the orphanage becomes a full partner with The Miracle Foundation, the ratio is reduced even further, to 10 children for every house mother.
The homes also group both boys and girls of different ages together with one house mother, like a family, rather than grouping children of the same age together, like a school.
Several of the orphanages have shown dramatic improvement, scoring just 30 percent in their first assessment of meeting the standards, to scoring in the high 90s on the same assessment 15 months later.
"It's remarkable," Boudreaux says. "The directors and the house mothers are doing the work. The heavy lifting is on them."
The Miracle Foundation now works with 11 orphanages, home to more than 800 children. Thanks to Boudreaux's efforts, these children grow up in a happy, healthy, loving environment and can look forward to a future that includes vocational training or even a college education.
"The results of all her work are really apparent, the way the orphanages have turned into homes," says Nivedita DasGupta, the Miracle Foundation's India country head, in an interview via Skype from her office in New Delhi. "The children now have loving mothers to take care of them, which they did not have before. They thrive with proper meals, education, and depth of care."
Before joining The Miracle Foundation in 2011, Ms. DasGupta worked for several nonprofit organizations in India, primarily with children. She has nothing but praise for Boudreaux. "I have never come across anybody as passionate and as competent as she is," DasGupta says.
"Caroline is one of the smartest nonprofit leaders in the US today," says Alan Graham, founder and president of Mobile Loaves & Fishes, an Austin-based organization that delivers meals to the homeless in several cities. Boudreaux once served as a volunteer for Mr. Graham and considers him a mentor. He advised her when she badly needed encouragement and direction.
"She's got everything going for her. She's got great communication skills. The work she does is compelling and meaningful," he says.
Chief operating officer Davis concurs. She particularly praises Boudreaux's ability to adapt and grow as her vision for The Miracle Foundation broadens. Davis also notes Boudreaux's ability to attract people to her cause, both in the United States and India, as employees, board members, and donors. "She does what she does for all the right reasons, and that's what resonates," Davis says. "She has a magnetic quality about her."
Boudreaux's immediate goal is to partner with more orphanages and serve more children. She is also hoping to expand beyond India. Her larger goal is to bring the plight of orphans to the world's attention.
To that end, she is hoping to have the care of orphans included in the UN's next set of sustainable development goals. Thus far, the plight of the world's 153 million orphans is not on the UN goals list – or much on the radar of global concern, she says.
"These are the world's children, and they belong to nobody," Boudreaux says. "What if they belonged to everybody? How cool would that be?"
• For more information, visit www.miraclefoundation.org.
How to take action
Universal Giving helps people give to and volunteer for top-performing charitable organizations around the world. All the projects are vetted by Universal Giving; 100 percent of each donation goes directly to the listed cause. Below are links to three organizations helping children in India:
Greenheart Travel is a nonprofit international exchange organization that provides cultural immersion programs to change lives, advance careers, and create leaders. Take action: Volunteer to teach children in India.
Embrace advances maternal and child health by delivering innovative solutions to the world's most vulnerable populations. Take action: Provide infant warmers for newborn babies in India.
Globe Aware promotes cultural awareness and sustainability. Take action: Volunteer to fight poverty in India by working with children in slums.