Writer Sally Bassett Brown offers a commentary in Carmel, IN, Current in Zionsville newspaper on the joys of traveling abroad, engaging locals and volunteer vacations.
One of the greatest joys of leading "voluntourism" retreats, trips mixed with travel and service, is the mixture of ages within a group. Recently I had 20 people join me to Costa Rica including high school students, an 11 year old girl and a 5-year old boy. Our oldest was 70 years young. Bernadette was a delight as she zip lined through the rainforest for her first time. Grey, our 5 year old from Zionsville, kept everyone joyfully engaged throughout the week as we worked at our International Center for Girls.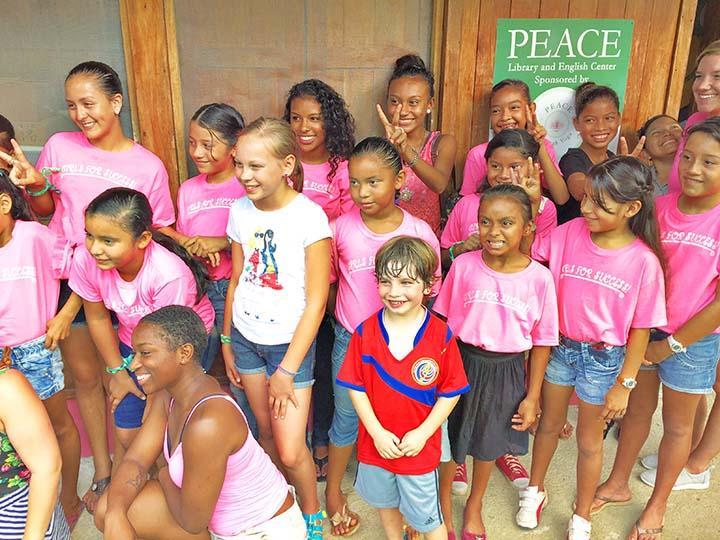 The group visited the school on four different occasions. Reading stations were set up, tie-dye activity was implemented, the classroom was completed cleaned and reorganized, backpacks were given as well as special stuffed animals and beanie babies, fluoride treatments were applied to each child"s teeth, games and singing with the children were a big hit, and a wonderful workshop on Empowerment was given by a sex education teacher from Richmond, IN.
Each girl received new pink shoes to go with their "Girls for Success" t-shirts. We were able to deliver a much requested computer to Yainsey, our miracle child who has had 8 surgeries on her leg. Yainsey will also be receiving a $150 pink bicycle so that she is able to get around easier.
Bends of material were brought down so our sewing program can go to the next level of making revenue producing items.
A field trip with the girls to the beach followed by pizza was a huge hit. Adventure activities (zip lining and river rafting) and trips to the beach were also part of the week"s schedule for our group participants.
The highlight, as always, were the dinners with the families the last night in the rainforest. Six or seven families host 3-5 people for a couple of hours and serve traditional Costa Rican fare.
Grey"s mother, Courtney Gorman, says, "I am extremely passionate about voluntourism, having been a trip organizer and leader for many years. To take my five year old on his first one was a dream come true….His light shone so bright, as I knew it would, and he immersed himself fully in everything we did. For me to sit back and watch him connect so open-heartedly with everyone, especially the Costa Rican children, will forever be a treasured memory. I know journeys like this will keep him seeking out adventure, hungry for learning, and passionate about service work throughout his life." What more can you want for you child.