Volunteer Vacations for Retirees
Many people struggle with balancing a meaningful lifestyle after reaching retirement age. Voluntourism trips are a great way to connect with a local community, see the world, and learn from incredible people from all walks of life. Check out this article that dives a little deeper into traveling and volunteering once retired and steps you can take now to ensure a fulfilling experience.
---
How to Travel the World After You Retire
PATRICIA DOHERTY
OCTOBER 14, 2018
Hitting the road after retirement, whether by vehicle or plane, train, or cruise ship, is the goal of many people contemplating a work-free future.
Both retirees and those years away from retirement look forward to relaxation, travel, family time, and leisure activities, according to a survey by Prudential Financial. And another study by Bank of America indicated that 95 percent of retirees would prefer to have enjoyable experiences over buying things. Travel is a way to achieve this — whether visiting out-of-town relatives or vacationing together.
Travel and Retirement Finances
Funding travel along with basic living expenses on a fixed income is a concern for many retirees. In this age of increased longevity, costly health care, and declining availability of pensions, many retirees find that their savings and investments are not adequate.
"While working and preparing for retirement, it's important to take full advantage of savings options including catch-up contributions to IRAs and 401(k)s. That is critical in creating a nest egg," Chief Financial Analyst Greg McBride of Bankrate.com told Travel + Leisure. "Travel expenses will need to be funded from those savings." He suggests paying off as much debt as possible to create breathing room in the retirement budget that might provide some latitude for expenses such as travel.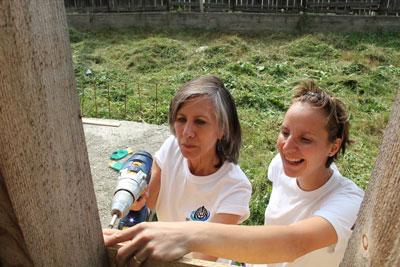 Asked about how retirees can fit in travel during the early years of retirement when health and mobility might make travel easier, McBride advises pre-retirees to build travel costs into anticipated retirement expenses as opposed to waiting until retirement to figure out how to pay for travel. He warns against pulling too much money from savings early in retirement.
"The risk is taking withdrawals in a falling market during those early years. It's very hard to recover from that," he said, adding that tax planning is important. "Be aware of tax obligations when you start taking minimum distributions as required after age 70 and a half."
McBride suggests that savvy consumers use credit cards that offer attractive rewards. "They can fund significant travel expenses — airline and hotel points or rebates can offset travel costs. This works for disciplined consumers who will pay off the balance every month."
Retirement Travel Planning with a Professional
T+L asked Peggy Goldman, president and founder of Friendly Planet Travel about retirees with limited budgets and the desire to travel. "Great experiences can be affordable for almost anyone. We're able to create programs that even retirees with fixed incomes will be able to manage, with no compromise on quality."
Since international travel is on many bucket lists, "the number of first-time international travelers is growing each year," Goldman said. "Individuals have to be realistic about themselves, what they're capable of, and what arrangements they need. We advise them not to limit themselves in terms of selecting programs — if they feel good and can do it, they should go for it."
Goldman says that travelers are seeking experiences instead of just sightseeing: "People want to interact with locals; they want to get their hands dirty in the kitchen, meet people in their homes," she said. "That's what is so wonderful about people-to-people experiences and optional excursions. It's more than just visiting monuments; it's about having experiences with people."
Asked for some examples, Goldman described how visitors to Hangzhou can visit tea plantations for demonstrations on how agricultural workers select and pick the leaves. Travelers get a chance to do it for themselves and gain a new appreciation for the tea they're drinking. "And don't rule out things like zip lines or hanging upside down to kiss the Blarney Stone. Typically it's the older folks who don't care how they look, so they're just game to try something new."
A May 2018 study by Booking.com found "a surge in solo travel, with two fifths (40 percent) of global baby boomers having taken a solo trip in the last year, and another fifth (21 percent) planning to take one in the future." Goldman's Friendly Planet Travel has already seen more solo bookings this year, with their Best of Egypt & Nile Cruise solo trip bookings up by 116 percent, and A Taste of South Africa package up by 95 percent. "We often find that our solo travelers form close friendships with their group members that enrich their lives and future travels."
Travel Options for Retirees
Cruises offer many choices, from river cruises in Europe, Asia, and South America, to ocean cruises just about anywhere in the world. Nearly all-inclusive with most details planned ahead, the ability to visit many places easily, onboard entertainment, quality dining, and specialized themes, cruises are attracting more travelers each year.
The Cruise Lines International Association (CLIA) 2018 Industry Outlook study showed a steady increase of cruise passengers over the last 10 years, and 27 new ocean, river, and specialty ships set to debut this year. The study also indicates that cruisers come from all income levels, with a third having a household income of less than $80,000 annually.
Train travel takes passengers away from highway traffic and airport crowds, while allowing them to enjoy the surrounding scenery in comfort. Domestic and international routes cover many popular destinations, and for long trips, private sleeping quarters are available. Lounges, restaurants, bar cars, and room to move around make train travel a desirable alternative for travelers.
Many seniors want the total freedom and access to out-of-the-way places that road trips offer. Recreational vehicle sales are increasing each year as more retirees are getting on the road in this relatively low-cost mode of travel. If rolling through the country in an RV sounds appealing, a good way to start is with a rental. Before investing in a vehicle, it's important to be sure it meets one's needs and capabilities.
Volunteer vacations offer travel along with an opportunity to contribute skills and experience to others both domestic and abroad. Many seniors are finding these trips to be rewarding, and they can also fulfill the desire to interact with locals and broaden cultural experiences. Others enjoy "learning vacations," traveling for workshops, conferences, cooking schools, cultural programs, or music festivals.
Older travelers are increasingly tech savvy, and many still prefer to book their own trips through airline and hotel websites. They buy tickets online to avoid lines at museums and attractions, and they shop for the best fares, room rates, and last-minute deals. Their flexibility allows them to take advantage of off-season and shoulder season rates, longer stays, and mid-week airfares.
Whatever mode of transportation, destination, or price level a traveler chooses, there are options available for everyone who desires to make travel a goal for their retirement years.