Recently Globe Aware took an online survey, and the most requested travel destination was Kenya! Here are just 10 of the many reasons why we agree, and visit our website to learn more about the impact we make in this beautiful country!
---
Longing for a once in a lifetime getaway? 10 reasons why Kenya should be at the top of your post-pandemic travel bucket list!
It's the fantasy that's been keeping us all going through a year of lockdowns and travel restrictions; the dream holiday!
So what's your ideal escape?
For some it's a white powder beach and crystal clear waters, for others it's awe-inspiring landscapes. Or how about the chance to see nature's most incredible creatures up close and personal or the adrenaline-filled fun of sporting adventures?
Whatever your dream holiday, you can do it all in Kenya!
From mountains to beaches and vast plains to vibrant cities, this wonderful country has got it all. Whether you're a couple seeking out romance or a family looking to create memories, this is the destination where once in a lifetime experiences are around every corner.
Read on for just 10 reasons why Kenya should be at the top of YOUR post-pandemic travel bucket list...
1. The locals
Wherever you travel, it's always good to get to know the locals.
But in Kenya that means so much more, thanks to the incredibly diverse wildlife that inhabits the country.
In fact, with 25,000 different animal species and a huge variety of up-close experiences on offer, you'll truly be immersed in the wonder of our natural world.
Stay in remote camps and lodges that take you away from the crowds, but which put you right in the centre of the animal kingdom.
Here you can spot the Big Five (lion, leopard, rhinoceros, elephant and buffalo) as they go about their daily lives, or set off on a guided exploration of the many reservations and parks where you can enjoy day and night drives, as well as private bush walks.
And for another bucket-list sight, why not visit the lakes in Kenya's Great Rift Valley, where you can see one of the most colourful spectacles on earth - a flamboyance of flamingos feeding in the shallow waters!
2. A whole year of amazing experiences
Kenya's climate is warm and temperate all year round, making it the perfect destination whether you're looking for winter sun or a getaway that fits into the school holidays.
Plus, no matter when you choose to visit, you're guaranteed a whole host of incredible experiences with the country's animal inhabitants.
If you want to see young wildebeest and zebra tagging along after their mothers then aim to be on safari between January and March. This birthing season also sees predators like lions come out in force, so you'll have the chance to see them on the hunt.
See the Masaai Mara looking its absolute best during the green season between April and June, or see that spectacular Great Migration in the months of July, August and September.
And with cultural festivals, eco-tourism opportunities, balloon safaris, walking tours, homestays, deep sea fishing, windsurfing, coffee tours and countless other once in a lifetime experiences taking place throughout the year, whenever you go to magical Kenya, it'll be a trip you remember forever.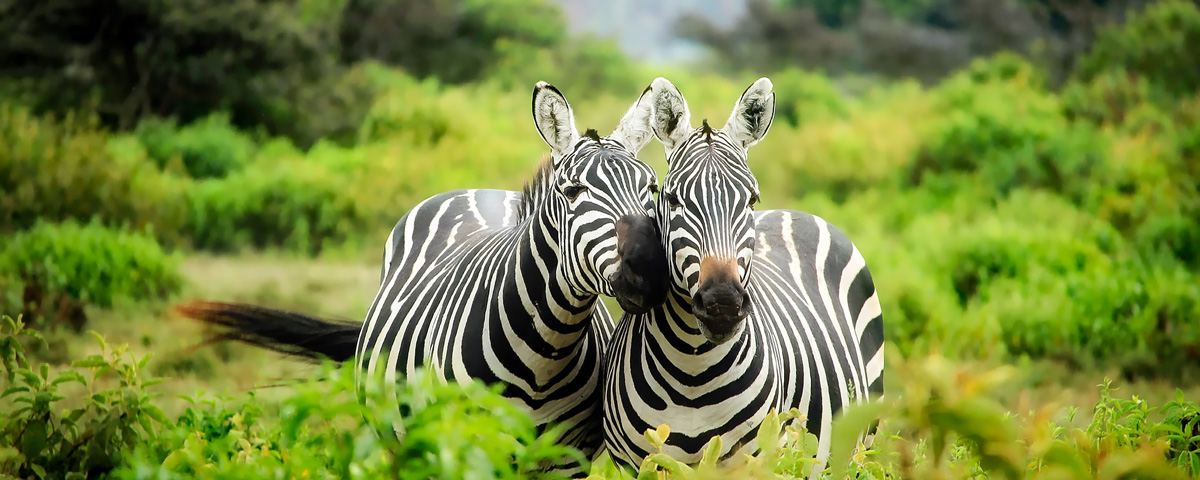 3. A safari with a difference
Kenya's landscapes are as varied as its wildlife.
And in its northern region you can discover the wide open spaces of the Chalbi Desert. Explore this fascinating area, home to Lake Turkana, the world's largest desert lake and UNESCO World Heritage Site, as well as a stunning area of oases where you'll find groves of tropical palm trees!
Known as the Cradle of Mankind, Northern Kenya is also the site of some of the world's most important prehistoric discoveries which tell almost the entire story of human evolution, like the 1.6 million year old complete skeleton of the Turkana Boy.
Combined with the rich cultural heritage of the region's 14 tribes, a visit to the north of Kenya will open your eyes to a whole new world.
4. The coastline
When you think of Kenya, safaris and sparse plains come to mind. But did you know its coastline is also one of the most beautiful in the world?
With white sandy beaches and warm clear waters, there are plenty of coastal resorts where you can kick back and soak up the sun in peace.
From the tranquility of Tiwi, a true hidden gem loved by locals, to the water sports and club scene of Malindi, there's one to suit all travellers. You can even indulge in an after-dark swim at Kilifi, when the natural bioluminescence in the tidal creek creates a truly magical experience you'll never forget.
Spend your whole getaway enjoying the gentle sea breeze and laid back atmosphere, or why not take a couple of days at the beach as a break from the action and early mornings of your safari?
But don't worry, there's still wildlife to discover. The warm Indian Ocean provides the perfect habitat for diverse species like dolphins, starfish and whale sharks, not to mention the coral gardens, reefs and mangroves, all waiting to be explored in the country's marine parks.
5. An island paradise awaits
Talking of beaches...
No visit to Kenya is complete without a stay on the Lamu Archipelago.
Comprised of four main islands - Lamu, Manda, Pate and Kiwayu - it's a place like no other, combining idyllic beaches and sparkling reefs with Arabic architecture and historic sites.
Add in bohemian boutiques, its reputation as a refuge for artists, fashionable restaurants and beach bars and the privacy afforded by its remoteness, and it's no surprise that Lamu is now the destination of choice for A-list stars looking to get away from prying eyes.
Board a traditional dhow boat for a sunset cruise, drink in hand, explore Lamu Old Town, the oldest and best preserved Swahili settlement in East Africa and picnic on the pristine sands of its hidden beaches, and you'll feel like you've truly escaped to a paradise on earth.
6. Endless adventures
For something a bit more high octane, you'll find water sports like kite-surfing, rafting, diving and jet-skiing on offer, or set out on an adventure back on dry land with a trip to Mount Kenya.
With its sheer cliff faces and snowcapped peaks, it's home to a diverse range of terrains, making it the ideal place for climbers, hikers and trekkers to reach new heights.
Experienced climbers can tackle Mount Kenya's main summits, Batian and Nelion, but those who want the breathtaking views without such an intense ascent, can scale Lenana, the mountain's third highest peak.
Or why not book a walking safari? These guided tours are a brilliant way to experience Kenya's flora and fauna and to learn about the wildlife of its national parks, with the spectacular scenery and unspoilt landscapes providing the backdrop.
And if, after all that, you're still feeling energetic you can rent a bike and cycle the quiet paths of the Rift Valley, Maasai Maara and the Kenyan coast.
What a fantastic way to experience the magic of Kenya up close and at your own pace.
7. Conservation in action
Kenya has one of the most biodiverse ecosystems in the world, so it's no surprise the culture of conservation has been embraced across the country, with initiatives to protect the land and the animals that inhabit it.
From government programmes, to local community enterprises, visitors to Kenya are able to witness conservation in action, as well as help contribute to its continued success.
Not only is there a national ban on hunting in Kenya, but there are many orphanages across the country, dedicated to caring for orphaned and endangered animals, where travellers can watch the rehabilitation process up close.
The memories you'll take away will last a lifetime, as will the knowledge that by visiting these incredible organisations, you did your bit to help protect Kenya's wonderful wildlife.
8. A warm welcome
If you want to truly immerse yourself in an authentic Kenyan experience, spending time with the Maasai Mara tribe is a must.
Not only can you stay in Maasai-owned lodges, but you can go on bush walks and game drives led by Maasai guides, enabling you to learn about the people of this incredible place, as well as the animals.
In the evenings there's the opportunity to enjoy music and dance while discovering more about the tribe's traditions and history. Or get really hands-on with a warrior training session where you'll be taught how to throw spears, fight with sticks and use Maasai bows and arrows.
By choosing Maasai-owned accommodation and activities, not only will you get a genuine understanding of a unique way of life, you'll also help it to continue as tourism is a vital source of income for the tribe.
9. Vibrant cities
After a few days exploring the far reaches of Kenya's vast plains, deserts and mountains, get a hit of urban life in one of the country's vibrant cities.
The capital, Nairobi, is a thriving and modern metropolis where you can shop 'til you drop, sip coffee at bustling cafes, enjoy an indulgent dinner at one of the city's outstanding restaurants and STILL see incredible wildlife at the Nairobi National Park!
The park is home to large herds of zebras, wildebeests, buffalos, giraffes, rhinos, leopards and lions, all living wild within 20 minutes of the central business district!
Or head to Mombasa to experience a diverse city that combines world class hotels and restaurants, with historic forts and hipster street food markets, with beaches right on your doorstep!
10. A very special event
While animal experiences are abundant in Kenya, there's one in particular that's truly unique.
A visit to the Maasai Mara National Reserve will bring you close to over 100 mammal species including zebra, gazelle, antelope, giraffe, ostrich and cheetah, as well as over 450 species of birds.
But to witness one of nature's most incredible events, plan your trip around the time of the Great Migration.
Watch as herds of wildebeest make their way from Tanzania's Serengeti National Park, across the crocodile-infested Mara River, in search of fresh water and grass.
Seeing this battle for survival will be sure to stay with you long after you've flown home.
Visit magicalkenya.com to discover more and to book your dream holiday now...