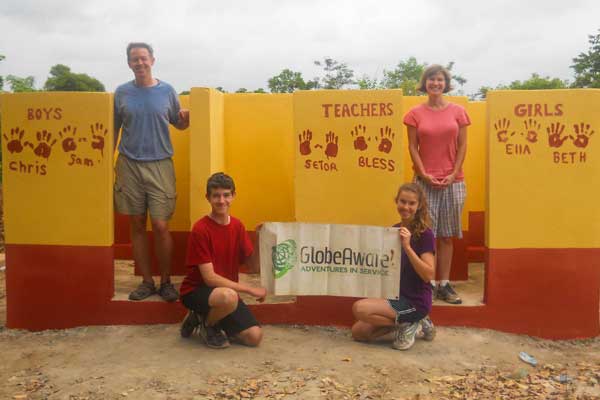 By Sucheta Rawal
Travel Writer
Posted: 06/09/2014 4:27 pm EDT Updated: 06/09/2014 4:59 pm EDT
Huffington Post, Travel Section
Volunteer vacationing, or voluntourism, is a relatively new phenomenon that includes a service component built into a short-term vacation. Don't confuse it with a mission trip, which is a trip designed specifically to work on a charity project or spread the philosophy of a religious group, or with the Peace Corps, which offers an opportunity to live and volunteer abroad for extended periods of time. The idea behind a volunteer vacation is to give back to the community you are visiting while having fun and learning about the local culture.
This type of a meaningful summer getaway can be especially useful for teenagers. Imagine a real-life lab where teens are learning as well as contributing. Choose any topic of interest to plan your themed trip, including the environment, health, education, micro lending, crafts, firefighting, sports, animals or construction. Most organizations require no prior experience or special skills but may not admit children less than eight years old.
1. Learn the real culture
International travel provides the opportunity for a great learning experience, but if you only take group tours and do solely tourist activities, you never really learn about a place's true culture. Volunteering makes you get out there and meet the locals, as well as talk to and work alongside them. When you are forced into a situation where you are interacting with the locals everyday, you start to pick up on their cultural nuances and understand their culture on a deeper level. The recipients also feel grateful for your contributions and may invite you to private dinners, family gatherings or festivals that you wouldn't otherwise have access to.
2. Strengthen family bonds
Traveling is a family bonding experience, but doing projects while traveling builds a sense of teamwork. Kids of all ages can work together building homes in villages, sowing seeds at community farms, taking care of animals at sanctuaries or engaging street kids in sports. Grandparents, uncles and cousins who don't get to spend time with each other outside the once-a-year Thanksgiving or Christmas get-together can hang out as well as feel good about making an impact.
3. Be a positive role model
When your kids see you working hard to build toilets for village schools versus sipping margaritas on the beach, they develop a deeper admiration for you. As a parent, you become a positive role model who encourages them to think beyond themselves and to lend a helping hand to the global community. You empower your kids to be responsible, compassionate and good global citizens by leading by example.
4. Prepare the leaders of tomorrow
Working abroad as a volunteer helps teach greater tolerance and understanding towards people from diverse cultural backgrounds, lifestyles, ages and income levels. It helps young people break down stereotypes at a young age and grow into responsible, caring leaders. According to certain studies, adults who volunteered as kids were twice as likely to be involved in community service as adults who did not. If you expose your kids to volunteering at a young age, they are likely to become contributing members of society and future change agents.
5. Get a break on your taxes
Many volunteer vacations are tax deductible. If you are traveling with a registered charitable organization and the main reason for your trip is to do volunteer work, you can deduct all or most of the expenses you incur. For a family taking an international trip, the savings can amount to thousands of dollars.
6. Leave a positive footprint
Going on a volunteer vacation as opposed to a regular one will always leave a positive footprint. When you depart a destination, you bequeath something of value to the locals that will help them in their future. Weather you teach English to women or bring smiles to the faces of little kids, it is certain that the impact of your visit is much more than the dollars you spend at the hotels and restaurants.
7. Build your teen's resume
Any volunteer work adds value to college applications. Teens can draw references from their experiences of traveling internationally, seeing how people live in different parts of the world, and helping make a positive impact. It provides them with great content that is relevant in class discussions, interviews and term papers. It also boosts their confidence and social skills.
8. Make them appreciate what they have
Perhaps the greatest benefit of a volunteer vacation experience is making your teens appreciate the lives they have and halting the trap of overconsumption. Witnessing how the majority of the world's population lives without 24-hour running water, electricity, down comforters and overstocked pantries is truly an eye-opening experience for which no textbook or documentary film can substitute. After making friends with others of a similar age who live with very little, they will probably not demand the latest electronic gadgets next Christmas!