Light Up Your World This Spring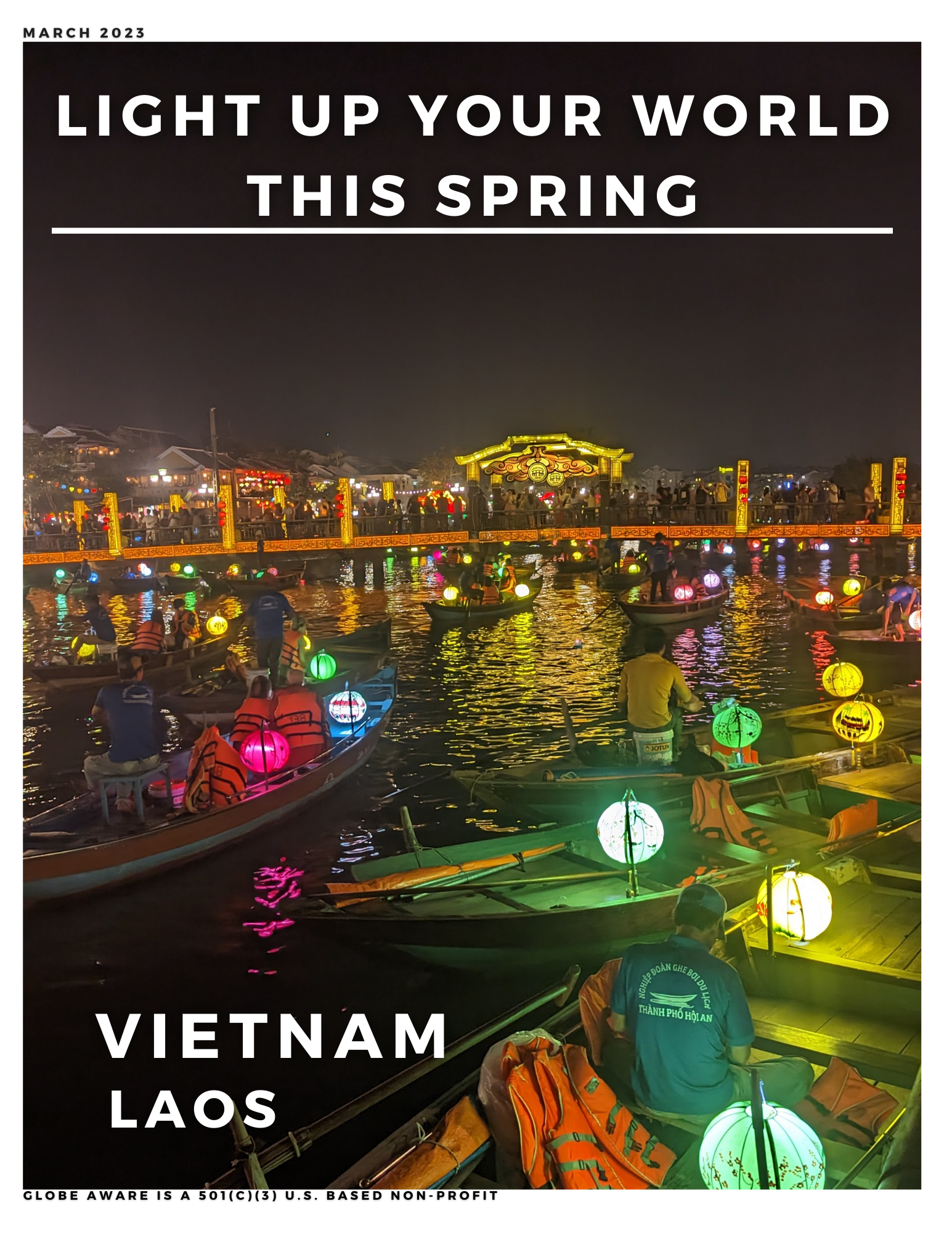 The ancient town of Hoi An is a unique concentration of preserved architecture, nestled around the Thu Bon river, or "Mother River."
In the 16th and 17th centuries, Hoi An was the international trading center in Southern Vietnam. Foreign merchant ships would dock in great numbers. The Japanese, Chinese, Dutch, and Indian traders would set up their emporiums or establish permanent living quarters.
This marriage of past influences gives the town its unique architecture and flavor. Hoi An has wonderfully kept its traditional and cultural activities, habits & customs and is now a living museum waiting to be explored and appreciated.
We recently visited Coordinator Bella in Vietnam and were delighted to experience Hoi An post-pandemic. The streets are lined with glittering lanterns, busy market vendors, and visitors from all walks of life.
Did you know? On December 4th, 1999, Hoi An was inducted into the World Heritage list!
Volunteer Work in Hoi An
Globe Aware cooperates with grassroots nonprofits and local schools that assist disadvantaged youths and those with special needs at no cost. Many children come from surrounding rural areas, and their families have difficulty finding additional learning assistance or/and physical therapy for them.
Volunteers will be engaged in projects, from building chicken coops and donating chickens to provide a sustainable protein source to refurbishing playgrounds and homes to replace substandard housing. You may work on renovating parts of a kindergarten* or primary school or other infrastructure to help raise the standard of living throughout rural Vietnam.
You'll also be interacting with the children, helping them practice basic English, playing games, and teaching practical & life skills to encourage physical, social, and intellectual development.
It was heartwarming to see past projects our volunteers built or donations they have given being utilized and appreciated ( ex. a chicken coop built by the Hill family and classroom & chairs donated by the Thurlow family).
These facilities continue to need volunteers and donations and are ready to welcome back Globe Aware participants eagerly!
*Kindergartens are currently not funded by the Vietnamese government.
Important to know
This program is most appropriate for those over 18 unless traveling with a parent or guardian and those who feel reasonably confident about their fitness level. The work can sometimes be demanding, and the climate can be hot and humid ( be careful of heavy rains and flooding from late Oct to Jan).
American citizens are required to apply for a visa before arriving in Vietnam. It's an easy process that requires at least two weeks before departure. Globe Aware staff is ready to assist you as you book and plan your volunteer vacation in Vietnam!
We have a Vietnam playlist with Coordinator Bella, exploring fun cultural aspects of life in Vietnam. Check it out by clicking the link below!
Learn more about Globe Aware's Vietnam Program

View Globe Aware's Vietnam Playlist
LAOS
THIS PROGRAM IS FOR A LIMITED TIME ONLY! BOOK NOW!
Laos is a beautiful, tropical, and mostly untouched country that is relatively safe to travel to, with a slow and laid-back lifestyle.
Sadly though, Laos is also one of the major gateways of the illegal wildlife trade from Southeast Asia. There are thought to be thousands of protected wild animals and their parts being smuggled in and out of the country every month. Therefore, having a wildlife rescue center in Laos to directly combat this illicit activity is of great importance. One of the aims of this program is to improve the conditions for animals currently in the Laos Zoo, providing safe enclosures and rehabilitation for animals rescued from the illegal wildlife trade.
Volunteers will assist with providing care, cleaning, feeding, and enriching the lives of the animals. Enrichment is a way to improve the lives of animals and stimulate them mentally and physically by providing activities to work on throughout the day. Before the center, the animals spent many years without mental or physical stimulation. Enrichment is essential for any animal routine, as it helps prevent boredom and stress behaviors in animals. Construction projects can vary from building a pool to new climbing structures and enclosures.
*The center is a no-touch facility for volunteers.
The rescue center is in a rural location in Laos, and there are a few local shops, markets, local-style food houses, and small temples within walking distance from the center. You will be living in an authentic Laos setting!
To learn more about this program, click on the link below!