SEIZING THE SUMMER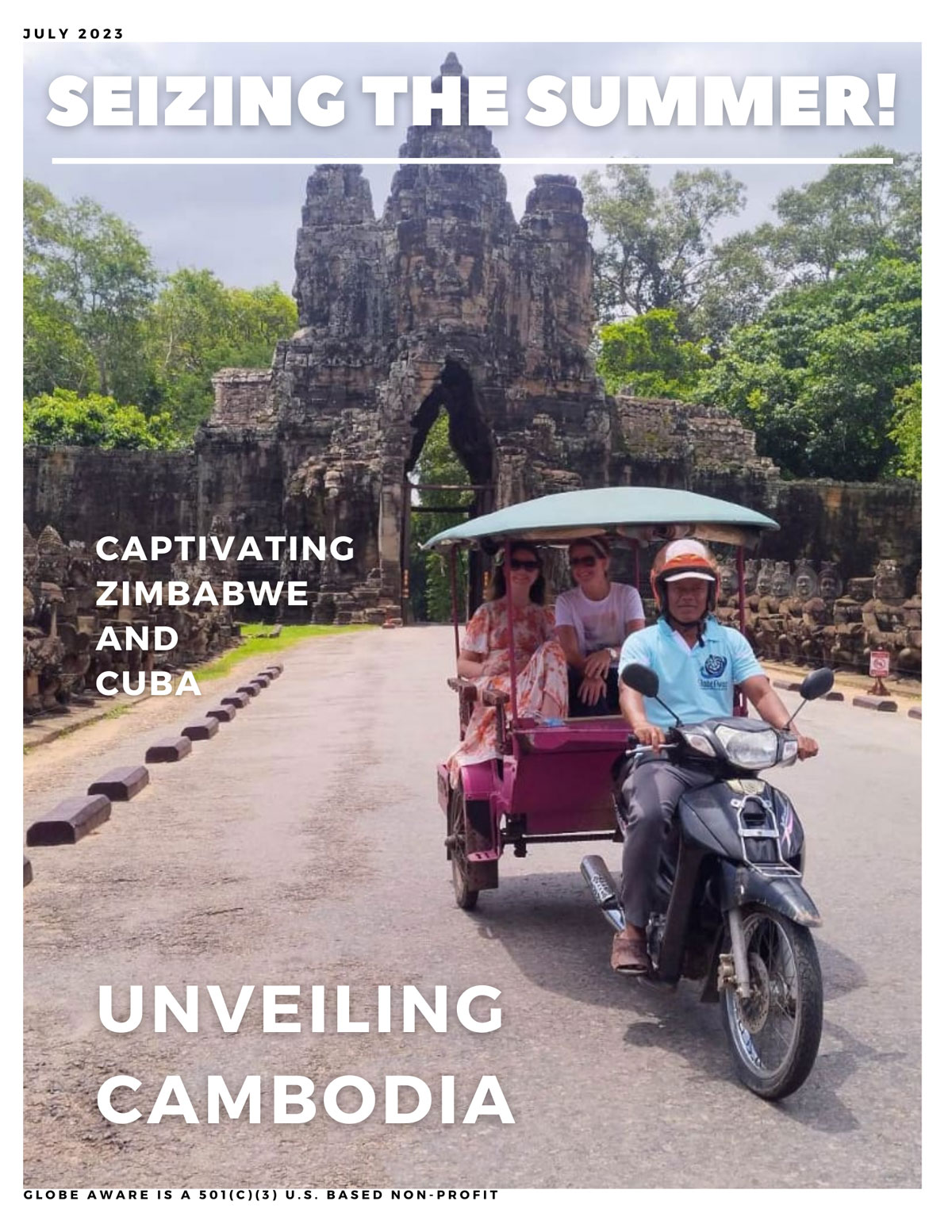 Unveiling Cambodia
Cambodia is a developing country that faces various social and economic challenges. By volunteering, individuals can contribute their skills, time, and resources to support local communities in need. This assistance can help improve living conditions, access to education, healthcare, and other essential services.
Globe Aware's program is based in Siem Reap, the gateway to the renowned Angkor Wat temples. Volunteers will engage in diverse projects, involving both practical tasks like wheelchair assembly and home repairs in impoverished areas, as well as soft skill projects focused on interacting with children at a rural Cambodian village school.
Volunteers are accommodated in a modest hotel setting, where they can enjoy affordable and delectable meals nearby. Recreational activities include visits to the renowned temples of Angkor Wat and the exploration of Siem Reap town.
Unveiling Cambodia Cont.
The Hansons & Hills assisted locals, alongside Coordinator John, with building a well and a toilet in rural Cambodia. Despite the laborious work, joyous smiles abounded in every direction.
Wells offer a dependable and uncontaminated water supply, benefiting livelihoods through activities like raising livestock and cultivating vegetables. Additionally, the presence of nearby bathrooms ensures improved sanitary waste management. As a result, children no longer have to travel long distances for clean water or for a toilet, enabling them to attend school regularly. Moreover, the community received additional assistance through generous contributions and valuable time spent interacting with the children in a neighboring school.
In addition, our volunteers had the opportunity to explore ancient temples, witness an enchanting Apsara dance performance, visit a land mine museum, experience a traditional ox-driven cart ride, and receive meaningful water blessings. Cambodia boasts a rich Buddhist heritage, and our volunteers had the privilege to visit and offer greetings to Buddhist monks.
To learn more about our program in Cambodia, Click Here!
You can see the water blessings and more on our YouTube channel: Click Here!
Captivating Zimbabwe
Imagine beginning your morning with the captivating sight and sounds of elephants indulging in a refreshing sip of water just outside your lodge. This remarkable experience was just the start of the week for our three volunteers in Zimbabwe during June. Their main focus was on volunteering projects such as enhancing the classroom through painting, building reading skills, and fostering meaningful connections with local children. Additionally, they devoted their time to coaching the children in basketball, a popular sport within the community. Our volunteers also had time to explore their project location and were also educated about borehole pumps, an innovative solution for accessing water in arid regions.
To learn more about our Zimbabwe program, click here!
We have two brand new podcast episodes available
for you to listen to on your preferred streaming service.
Preparing For Your Service Abroad Adventure in Cusco, Peru!
Episode 7 of our podcast is out!
Join us on this podcast as we delve into an exciting adventure to Peru. Discover what lies ahead, learn about essential items to pack, and gain insights into the Peruvian experience. Our host, Kimberly Haley-Coleman, Executive Director of Globe Aware, introduces the captivating Cusco program while shedding light on the challenges faced by Peru.
Peru Podcast: Click Here!
Asia is on the Radar!
Episode 8: "Getting Ready for your Adventure in Service in Cambodia!
Kimberly Haley-Coleman, the Executive Director of Globe Aware, discusses the historical background of Cambodia and the obstacles it currently encounters. She sheds light on potential opportunities for involvement and highlights the community's requirements. Additionally, she delves into the cultural customs of Cambodia and offers guidance on packing essentials. Furthermore, she provides a comprehensive guide, encompassing your arrival, stay, and departure from Cambodia.
Cambodia Podcast: Click Here!
Captivating Cuba
Learn a little more about what we focus on at our Cuba location!
In Cuba, the scarcity of prescription drugs has led to a growing reliance on herbal remedies and alternative treatments, particularly during and after the Covid crisis. Due to long waits for healthcare, locals often resort to plant-based and homeopathic remedies as their primary healthcare option. A well-known Cuban initiated a medicinal plant garden project to educate the community about using local flora and fauna for treating various ailments.
In a fishing town near Havana, a renowned artist has been beautifying the neighborhood by creating mosaic murals and domes on numerous homes, adding to Cuba's cultural heritage. Volunteers may participate in painting or continuing the mosaic work.
While Cuba provides free education and public policies to support people with disabilities, specialized care for children with special needs, such as Down Syndrome or autism, is limited. As a result, these children are predominantly cared for by their mothers, preventing them from pursuing paid work and straining family finances. After high school, these children often lack suitable options for their future.
Volunteers may engage with these children through activities like singing, dancing, and exercises to provide relief for their mothers, as well as contribute donations and funding for meals.
In the face of economic challenges and high unemployment, many Cubans are seeking alternative ways to generate income, such as producing brooms and knitted clothing. Volunteers can support these micro-enterprises by delivering tools and materials and assisting artisans in their craft.
Book your fall trip to Cuba now!
Learn more about Globe Aware's Cuba program: Click Here!