Lao Culture – Quick Facts, Travel Hints, & Tips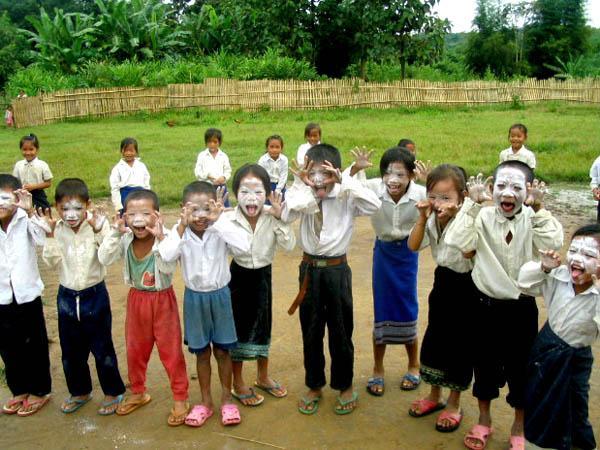 About the People
Laos has a population of around 6.8 million. This includes around 4 million ethnic Lao and 2.8 million members of other distinct ethnic groups.
The most significant non-Lao ethnic groups – all with populations over 100,00 - are the Khmu, Hmong, Lu, Phuan, and So.
For this reason, Laos is generally considered to be one of South East Asia's most diverse countries.
The Food
Lao cuisine is different from the cuisine of other South East Asian nations. Staples include sticky rice and laap (a mixture of marinated meat or fish that is at times raw).
The food in Laos varies greatly by region, and a distinct French influence can be found throughout the country. You'll love the bread, especially in big cities like Vientiane.
The variety of ingredients used in Lao cooking is eye-popping. Shredded papaya, tamarind, ginger, rice, fish sauce, are among dozens of ingredients commonly used in Lao dishes.
Lao meals often include fresh vegetables and herbs.
Dinners are generally communal traditionally.
Close the rice basket when done eating!
Beverages are not generally part of a meal.
Laos coffee is very popular, and the several local beers and liquors are ubiquitous.
Morning time will often include a trip to the local produce market.
As in other Asian nations, you'll want to be sure to never use your left hand to eat!
Leisure Time
There are dozens and dozens of regional and national festivals celebrated in Laos.
Recently, art festivals in the western sense have become much more common.
Transportation

The bus system is very practical and simple in Laos. Numerous buses run routes on schedule and the attendants are generally very helpful.
Many of the mountain passes can be frightening! Take comfort in the fact that the more well used roads are relatively well-maintained.
Boat cruises on the Mekong river are a popular method of transportation, especially among those with time on their hands.
As in other parts of South East Asia, you'll see scooters everywhere. You'll even see the passenger holding an umbrella on a hot day!
Education
Traditional temple schools built in the 1600's to educate young boys were instrumental in increasing basic literacy in Laos. The current literacy rate is estimated at 50%.
Schools weren't open to all ethnic groups until 1975.
Language
The official language of Laos is Lao. The language is Tonal and spoken by 15 million people in Laos and Northeast Thailand.
There are 5 primary dialects to Lao. Vientane Lao, Northern Lao, North Eastern Lao, Central Lao, and Southern Lao. The script is based on the Lao dialect spoken in Vientane.
French and Vietnamese are spoken widely.
Thai is intelligible to Lao speakers, and so you may notice many Lao's enjoying Thai language television programs and films.
Economy
World Bank statistics consistently point to Laos being the poorest and least developed country in East Asia, and one of the ten poorest in the world. Per-capita income is around $320.
More than 75% of the people are still engaged in subsistence farming.
Tourism is one of the biggest industries, and over a million people visit this small nation every year.
Religion
Buddhism was introduced to Laos almost 2000 years ago and gradually gained prominence over the centuries.
Today, 60% of Laos are Theravada Buddhists by some estimates. This form of Buddhism, as opposed to Mahayana, is based on Buddha's earlier teachings.
Animism is still prevalent among the ethnic minority communities and there is a small Muslim community in Vientiane.
You'll see the tradition of giving Alms if you awake in the early mornings, especially in Luang Prabang. The local monks will walk through the city to collect offerings from the local community.
Music & Popular Culture
One of the more interesting Lao instruments is a bamboo organ called a khene.
Traditional Lao music can generally be divided into classical and folk forms. Folk music is unrehearsed singing accompanied by the khene.
Among the younger generations, indigenous rock and pop as well as imports from Thailand, are extremely popular.
Popular bands include The Cell, Smile Black Dog, Dao Kha Chai, Awake, Khem Tid, Eighteen and Black Burn, Aluna, Overdance and LOG.
The band LOG was involved with the movie Mak Tae (Lucky loser). A fictional sports comedy produced in Thailand, the film created a riot between Laos and Thailand. The producers were forced to change the details of the film to exclude all references to Laos.
Globe Aware has gathered more tips, hints, and facts on Lao culture from numerous sources in print, past volunteers and staff, and on the web. Find out more by registering today and experiencing genuine Lao life, from the giving of Alms to Lao coffee, for yourself!