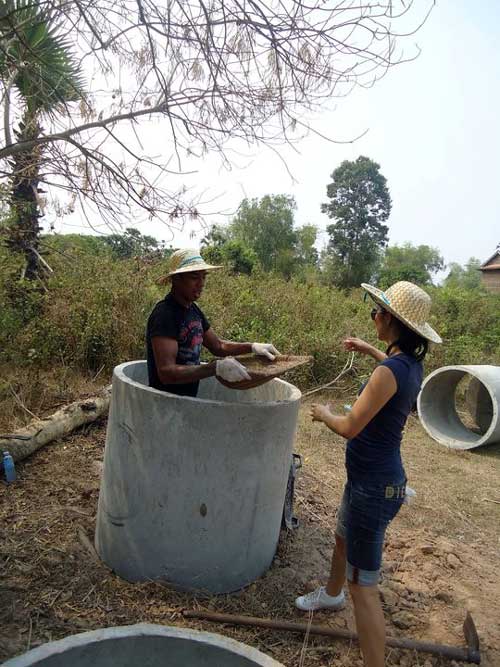 Adan Gonzales was one of Globe Aware's first recipients of the Global Wings initiative. Gonzalez grew up in Oak Cliff, a predominately Mexican-American community in Dallas that is mostly known for crime and socioeconomic strife. As a child, he sensed a disconnect between his surroundings and the American dream his parents had believed in when they immigrated to the United States in the 1980s. Street violence was an everyday concern for the family as well as what seemed to be a series of never-ending financial blows. Adan was inspired by his parents' work ethic and perseverance and at the age of eight, began to sell movies and snacks at the local flee market to help afford school uniforms for him and his brother.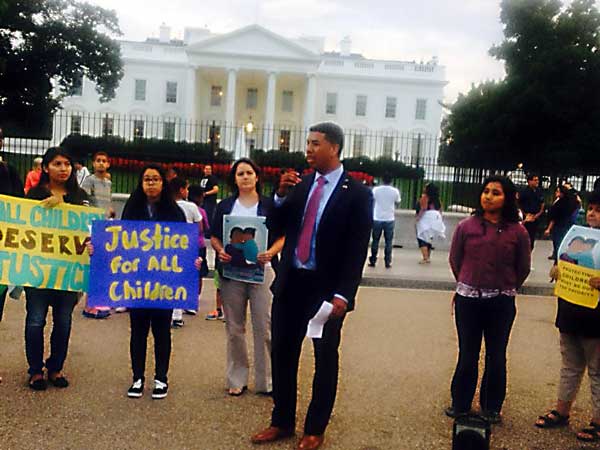 As his parents worked multiple jobs to provide basic needs for the family, traveling was an unattainable luxury. Adan and his parents rarely traveled outside of their city or state, unless it meant the rare trip to Mexico to visit relatives. Even exploring his own city was out of reach for much of his childhood.
In high school, Gonzalez realized that through academic success and community involvement he could make life better for himself and his relatives.
"That's when I started doing well in school. I saw how proud my dad would be when the teachers told him I was smart or that my grades were really good," Gonzalez said. "I wanted to show my parents that their sacrifice and hard work was worth it."
Adan also became involved in local community service and began to seek ways in which he was able to give back on a Global scale. Through the Global Wings initiative, individuals such as Adan, who have the desire to serve, but may not have the resources or know how to do so are empowered with the tools, knowledge and means to make it happen. Through events, raffles, and donations, Globe Aware was able to send three graduating seniors to Costa Rica to work on turtle conservation efforts. They also had the opportunity to work with a local school by teaching English and working on projects to improve the infrastructure of the school.
His fellow volunteers were so impressed with Adan's desire to learn and serve, that they were inspired to fund a second trip for him to volunteer in Cambodia.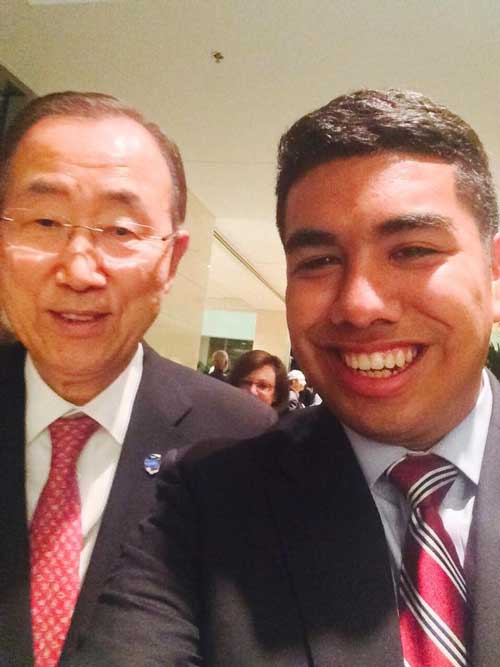 Adan Gonzales with Ban Ki-Moon, Secretary General of the UN.
"Cambodia was an experience in my life that I still have a h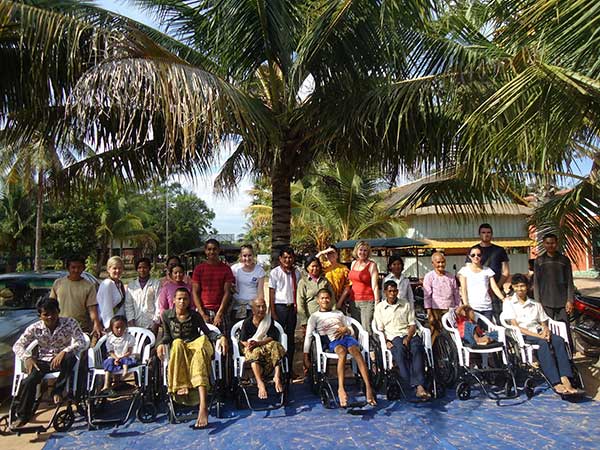 ard time putting into words. It made me a better person," Gonzales said. "The things I saw, and people I met helped me understand more the concept of being alive, to understand that as people, even if we do not have wealth, more than anything in this world we can give to someone…is our 'time'."
For Adan, his volunteer trips to Costa Rica and Guatemala helped prepare him for new experiences and has further driven his desire to give back. Adan went on to attend Georgetown University and founded the Si Se Puede Network. The network promotes his simple philosophy for success to ambitious but disadvantaged students: Great students keep up their grades, perform community service, and develop leadership skills.
We are so proud of Adan and look forward to seeing all of the amazing things he has set out to accomplish.