Globe Aware destination Hoi An makes it on the list as one of the most romantic places in the world! The location is famous for its lantern-lined streets and well-preserved historic architecture.
---
The 10 most romantic places in the world
From Montreal and the Maldives to Las Vegas and Lake Malawi, these are the most romantic places in the world according to us
Written by John Bills
Tuesday 8 February 2022
You can never have enough love in your life, especially when the world around us seems more chaotic than ever. Luckily for lovers worldwide, the planet is packed with romantic places that will simultaneously take your breath away and steal your heart, filling the lungs with love and excitement in equal measure. We live in an incredible corner of the universe, that cannot be denied.
From idyllic island paradises to charming cities and vibrant villages, we've scoured the globe in search of the most romantic places in the world. The final selection covers the classics while introducing a couple of places you might not be aware of: secret spots for you and yours to plan the rest of eternity together.
1. Montreal, Canada
Swoon. There's something about magical Montreal that really sets it apart from other cities in North America, something that screams 'romance' and promises to never let go. It could be the curious combination of Canadian confidence and European elegance, or it could be the tangible history that sparkles from every corner of the city's historic heart. In truth, it doesn't matter what it is, as long as whatever 'it' is keeps on shining. Seek out one of the many rooftop bars in the Old Town and soak it all in.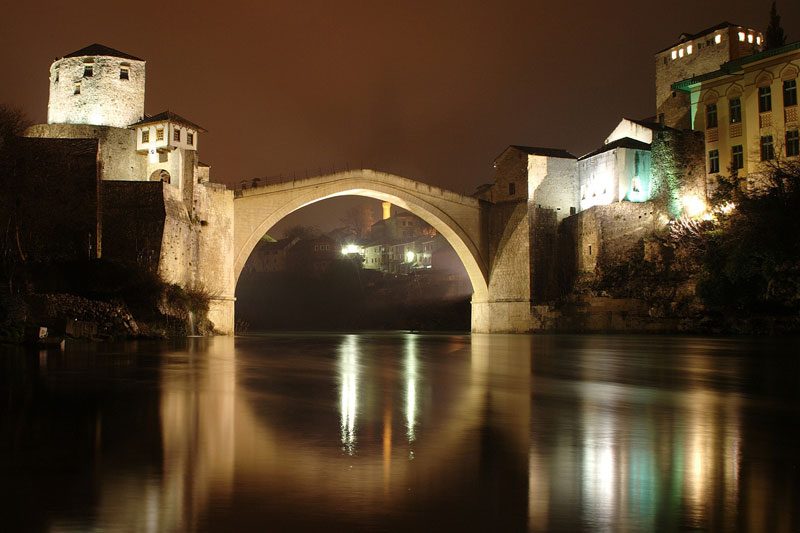 2. Herzegovina
With the heart in its name and wine flowing from every corner, Herzegovina remains one of Europe's final hidden treasures. The use of the word 'hidden' isn't entirely accurate, of course, as any summertime visitor to Mostar, Kravice Waterfalls or Medjugorje will attest, but the passionate southern portion of Bosnia and Herzegovina is a beautiful region filled with romance-friendly adventures for lovers of all shapes and sizes. From exploring wild rivers by kayak to the shimmering allure of the Tekija in Blagaj, Herzegovina is a destination defined by the heart. If the sight of Počitelj doesn't make you fall head over heels in love, you might want to check your pulse.
3. Venice, Italy
Where else to begin? No city on the planet encapsulates the idyllic concept of romance quite like Venice. There is beauty around every corner here, from sunrise to sunset and beyond, with narrow canals and Renaissance architecture transporting visitors to a rose-tinted wonderland. The romantic restaurants don't hurt, while the many bridges of Venice seem tailor-made for proclamations of passion. All this without mentioning the inherent romance of a gondola ride? Venice is a city for lovers, old and young.
4. Marrakech, Morocco
With the colours, the smells, the sounds and the sights, Marrakech is the sort of place that reawakens the senses with a cacophony of excitement. Somehow it manages to be forthright and wistful all at the same time, a dizzying destination that is perfect for the passionate, making it a thrilling destination for romantic visitors of all types. It also happens to be known as the City of Luxury, with all the ornate palaces and life-giving spa and wellness options anyone could need.
5. Kyoto, Japan
Tokyo gets all the noise, but Kyoto is where it's at. The historic and cultural capital of this most fascinating nation, Kyoto is a picture-postcard city of classical Buddhist temples, Shinto shrines, traditional wooden houses and imperial gardens. The food is incredible, the people are magnificent, the atmosphere is spellbinding. Kyoto is Japan at its most romantic, with bamboo forests offering a breathtaking backdrop for a starry-eyed stroll. The city has become something of a hotspot for proposals, and it isn't hard to understand why.
6. Prague, Czech Republic
The City of a Hundred Spires seems to have been built with love in mind. That can be the only takeaway from a moment spent looking over the Czech capital from the viewpoint at Letna Hill, a beer in one hand and beloved in the other. Prague is a postcard city of stories, a famous old wonder that has inspired generations of authors for centuries and will continue to do so as the years fly by. The Old Town gets most of the attention, but don't be afraid to explore further afield either; each district has its own unique feel, from the modern stylings of Karlin to the grandeur of Vinohrady and beyond.
7. Zanzibar
Zanzibar's dazzling beaches have long made it a popular honeymoon destination, but there is more to the island than the natural beauty of where sand meets sea meets sun. Traditions are important here, and that makes for a more sedate pace of life in the very best way. Zanzibar is a place where couples can step back and fall in love with what they have all over again, complete with shimmering coral reefs and all the spices the palate can handle.
8. Niagara Falls, Canada/USA
The Honeymoon Capital of the World? That'll be Niagara Falls. The world's most famous waterfall is a take-your-breath-away sight if ever there was one, and isn't that one of the great experiences of love? The thrilling moments of realisation that this person is the one, the sort of experience that always hits different when backed by 3,160 tons of water rushing by every single second. It might not be the most original of honeymoon spots, but who cares about originality when it's the heart we're talking about?
9. Hoi An, Vietnam
Hoi An's famous lantern-lined streets are an idyllic spot for twilight walks and candid conversations, backed by well-preserved historic Vietnamese architecture that tells plenty of stories. The town's lantern boat rides are the thing of romantic dreams – a tremendous combination of natural delicacy and impressive confidence – while Hoi An also has one of the best cocktail scenes in the country.
10. Iceland
Iceland can feel like another world, a world filled with all the best bits of nature from thrilling geysers to moon-like craters and more. There's nowhere quite like it, and it's that unique atmosphere that brings lovers here in search of something special. It doesn't get more special than the staggering light show of the Aurora Borealis, an achingly gorgeous experience that everyone should seek out at least once in their lives. The eccentric side of capital Reykjavik is plenty romantic in its own right.