With the no-passport-required ease of traveling, and direct flights available from dozens of cities, it's no wonder that the vacation-deprived are rushing to this island. Globe Aware volunteers headed to Puerto Rico can figure out what they need to pack with these helpful tips!
---
8 items to pack when traveling to Puerto Rico, according to residents
BY REGAN STEPHENS
June 13, 2021
In late May, traveling to Puerto Rico just got a little easier. The U.S. territory loosened its requirements for domestic travelers, with vaccinated visitors now able to skip COVID-19 entry testing, and instead upload their vaccination card via a portal.
With the no-passport-required ease of traveling to the Caribbean island, and direct flights available from dozens of cities, it's no wonder that the vacation-deprived are heading south in droves. Puerto Rico has seen an uptick in travelers since last fall, with overall hotel demand outpacing 2019 rates.
"There's been a pent-up demand to travel from the past year because of COVID-19, and as Puerto Rico has always been a popular destination for U.S. mainland travelers, naturally an influx of people have booked trips to our tropical island," says Adrian Mercado, director of sales and marketing at Hotel El Convento and Palacio Provincial. The two historic properties located in Old San Juan have seen a 30% increase in occupancy over the past couple of months. "We credit this to the convenience in getting to Puerto Rico with no passport necessary, as well as the recent ease in testing restrictions."
While it's true the island has a bounty of scenic beaches—and who couldn't use some R&R in the form of seaside piña coladas and a juicy novel?—Puerto Rico also has a rich history, abundant natural beauty, and a vibrant cocktail scene. (Fun fact: That piña colada was actually invented here.) All that, plus it's blessed with year-round sunshine.
Read on for locals' best tips on what you should pack for exploring everything Puerto Rico has to offer.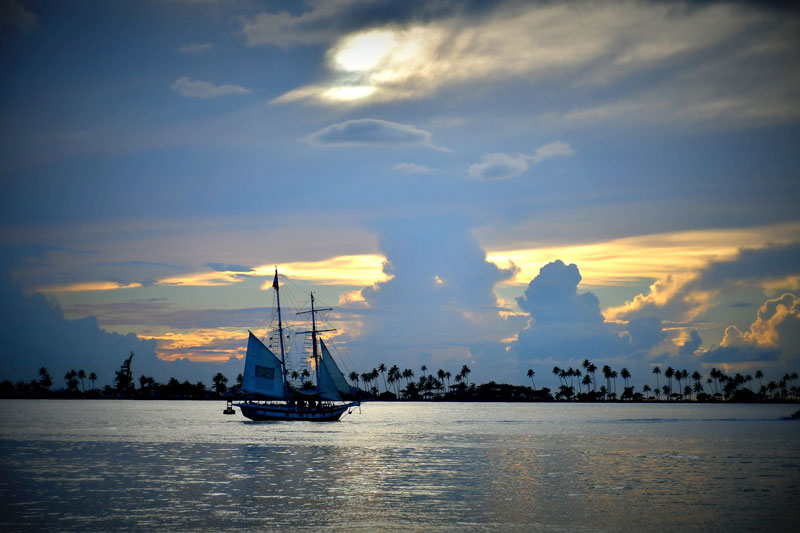 An insulated cup
Bring along an insulated beverage cup, like a Yeti, says Gigí Nieves Bosch, the writer behind OMG ¡Qué Rico!
"The heat can be intense, and sometimes a few minutes in the sun can completely melt the ice in your drink," she says. "I take my Yeti cup everywhere. It's amazing for going to the beach and honestly the best option for keeping your beer cold when you're in the water."
Nieves also notes that using an insulated cup cuts down on plastic usage, which is more environmentally friendly and keeps the beaches cleaner. Her Yeti is decorated with stickers from her favorite local shops, and she suggests—for a unique souvenir—doing the same, "to showcase the small, local businesses you supported on your trip!"
Reef-safe sunscreen
"People underestimate the strength of the sun here," says Claudia González, a front desk agent at Palacio Provincial in Old San Juan. To avoid a vacation-ruining burn, and to ensure the island's surrounding coral reefs stay healthy, choose a reef-safe sunscreen like Supergoop! PLAY or Drunk Elephant Umbra Sheer Physical Daily Defense. Both are easy to apply, don't leave a thick film, and are available in a three-ounce (or under) carry-on-approved size.
A wide-brimmed hat
Some of the local beaches have a dearth of shade, says Claudia González, so it's wise to wear a hat that will protect your scalp and face, even if you're consistently reapplying that reef-safe sunscreen. Plenty of Instagram-worthy options abound (we love the Goorin Bros. Vodka Soda straw hat), and if you're optimizing for packable, the Athleta wide brim sun hat is breathable, water-repellent, and doesn't take up much room in your bag.
A pair of sneakers
With over 270 miles of coastline, Puerto Rico is home to an array of beautiful beaches. While many are located in front of private resorts, there are countless lesser-traveled public spots that highlight the island's pristine natural beauty, many with calm waters perfect for swimming and snorkeling. But to visit them, you'll need to plan ahead.
"If you're trying to explore our local beaches, bring comfortable sneakers or close-toed shoes," says Aida Bauzá, Palacio Provincial ambassador. "In order to get there, you usually have to hike a little, and it's not recommended to go in flip-flops."
Efrén David Robles, cofounder of Frutos del Guacabo, agrees that sneakers are imperative, adding, "There are so many beautiful places to see [in Puerto Rico] which you can only experience by walking." One of them is his agro-tourism farm, where you can walk the acres of crops like microgreens and tamarind, visit with the baby goats, and refresh with a homemade limber, a Puerto Rican–style icy treat.
A handheld fan
Pack a fan, either a foldable option you can easily fit in your bag, or a natural fiber, handmade version. Average temperatures hover between 75 and 85 degrees, year-round, and "you never know when heat will strike," says Lulu Santaliz, a manager at Cool Hope Creamery in Lote 23, a gastronomic park. Or opt for a battery-powered device. About the size of a cell phone, this Tripole Mini handheld fan will cool you down in a snap, whether you're touring the Unesco World Heritage sites or lounging on a beach chair.
Waterproof shoes
Beyond packing sneakers, waterproof shoes are an ideal option for hiking some of the island's trails that lead to beaches, caves, or natural swimming pools. "I would recommend bringing a good pair of waterproof shoes," says resident Lynette Cabrera. "One of my favorite sites in Puerto Rico is El Yunque rain forest, which happens to be the only tropical rain forest in the U.S. National Forest Service. Waterproof shoes are great for hiking the trails and jumping in waterfalls you may come across."
A driver's license
While areas like charming Old San Juan, Santurce, and Condado are easy to explore on foot, so much of Puerto Rico's treasures are a bit farther afield. Since most are reachable in less than a two-hour drive, though, Lulu Santaliz recommends bringing your driver's license, noting, "If you're older than 25, renting a car might be a good option to be able to explore the island." (Note: It's also recommended to book a car prior to visiting, as the inventory goes quickly.)
Some options: El Yunque is about 45 minutes by car from Old San Juan. Or one of the island's bioluminescent bays—or bio bays, as they're called—Mosquito Bay on Vieques, the island off the coast of Puerto Rico, Laguna Grande in the northeast in Fajardo, and La Parguera.
The latter, in the southwest in Lajas, about a two-hour drive from Old San Juan, is the only one of the three that allows swimming. Visitors can book a kayak or boat tour in the evening to fully experience the glowing waters, which come from microorganisms called dinoflagellates. Finally, visit the coffee haciendas of the south—about an hour and half away from the city, in Puerto Rico's mountainous region—to learn about the island's history of coffee agriculture and production, and to sample some of the best coffee on earth.
Bug-repellent spray
Don't let pests put a damper on a perfectly pleasant hike through the scenic Toro Negro State Forest or El Yunque. Claudia González of Palacio Provincial keeps natural bug-repellent spray on hand at the hotel's front desk to lend to visitors who are on their way to places like the rain forest or even just the beach.
Some options include California Baby and Badger Anti-Bug Shake & Spray, or, if you're not checking luggage, stash these Babyganics single-use wipes in your carry-on. They're DEET-free, spill-proof, and simple to apply.