Today, Google is launching a new set of travel search tools that can help you plan for your dream Globe Aware summer vacation. The set of four new functions will enable you to better customize searches and works on your desktop or mobile device.
---
Check out these four great new Google trip-planning tools
By Bill Fink
The Points Guy
May 2 2022
Today, Google is launching a new set of travel search tools to help you plan for that upcoming weekend escape, summer vacation or long-delayed dream getaway.
The set of four new functions will enable you to better customize searches and quickly sort through targeted destination, pricing and lodging choices before saving all the results in a personalized tab that works on your desktop or mobile device.
Want to be notified whenever your bucket list destination has a flight sale? Curious about road trips you can take from your in-laws' hometown? Have to find a hotel or restaurant within a 10-minute walk from your convention center? Regardless of the details surrounding your search, Google has you covered.
Here's everything to know about Google's four new features.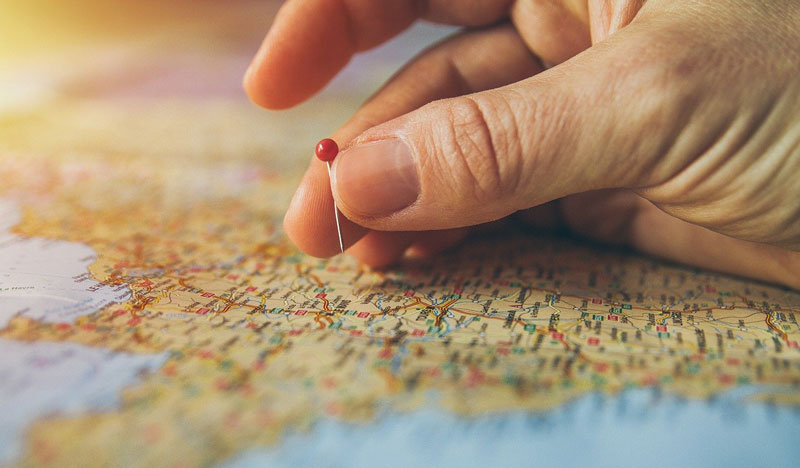 Updates to Google Flights
Google Flights has created a new feature that may inspire you to take that long-desired but seemingly out-of-reach trip.
With the latest Google Flights iteration, users can now track future flight prices between any cities by clicking on the new "Any dates" toggle switch. You could previously set flight alerts, but this takes the search process a step further.
If Google detects lower-than-usual fares anytime in the next three to six months, you will receive an email notification. This is great for planning for far-flung dream destinations or getting suggestions for spur-of-the-moment deals.
Users can also click on price grids and price graphs to evaluate flight options in selected date ranges.
Addition of 'Explore Nearby' function
Perfect for planning road trips, Google's new "Explore Nearby" function is located under the Explore tool of Google Travel. It will allow you to pick a location (your home base or your future destination) and then add filters like budget and trip length to explore additional destinations nearby. Google will then suggest road trip-ready escapes.
Click on a highlighted photo and Google will populate a side tab with trip information like average drive time, hotel prices and weather.
More search options for hotels and attractions
Google is also introducing new map-based "interest layer" search options for Google Travel. You can now find lodging within a selected walking or driving time or distance from a particular landmark or address.
For example, you can search for accommodation options within a 15-minute walk of the Eiffel Tower. Enter the specific address or landmark in the search bar and select dates plus "hotels" and/or "vacation rentals" to see a shaded section of the map that shows nearby lodging options.
Or, if you want to find a particular neighborhood's dining, shopping or sightseeing options, you can click new "interest layer" icons on the map along with walk or drive times. Even very specific search options like "kid-friendly hotels in Orlando under $200 with a pool" will return results (in this example, you'll see a mapped list with 123 choices on a sidebar with photos, prices and booking links).
Additional hotel tabs of "When to visit" and "What you'll pay" will show typical price ranges and weather patterns for selected time periods. Price tabs will include links to compare options across multiple web-based booking sites.
Creation of a travel bookmarking tool
Great for saving both dream travel research and practical details for upcoming trips, Google's new bookmarking tool will allow you to tap a bookmark icon on any hotel for it to become a "saved property." Then, you can return at a later time and hit the "saved" tab under "Your travel plans" to see all your targeted hotels and continue your aspirational or soon-to-be-booked trip planning.
Google has also created a travel icon that can be easily added to the home screen of your iOS or Android smartphone, giving you one-touch access to all your scheduled trips and future travel research.
Bottom line
The newly added Google search options will make it easier than ever to customize your travel research, consolidate flight and lodging options and save it all for future viewing.
The neighborhood searches and "Explore Nearby" search functions should be particularly useful when looking for travel ideas in cities or countries you have never visited before. Meanwhile, the seasonal flight pricing and hotel pricing searches will prove beneficial for finding deals.