Ever been to Costa Rica during the rainy season!? Globe Aware volunteers who are not sure what the rainy season in Costa Rica looks like during their volunteer vacation, we've got some great tips to help keep you dry.
---
Costa Rica Travel: 10 Tips For Traveling During The Rainy Season
By Astha Garg
April 29, 2023
The Tico Times
The rainy season is just around the corner! And if you are someone who likes to travel very often, you know that means you have to plan more efficiently. But if you are someone who is visiting Costa Rica for the first time, and are not sure what the rainy season in Costa Rica looks like, I am here to help you!
The rainy season in Costa Rica typically starts in May and lasts till the end of November. The rainiest months are September and October, and July is a mini-summer with 2 weeks of dry weather.
If you are of the opinion that the rainy season is not a good time to visit Costa Rica, I would like to disagree with you on this. There is something magical about the rainy season here. Nature's true colors are revealed and you see lush greenery everywhere. The rivers and waterfalls are fuller and more enjoyable. Hotels are cheaper and there are fewer tourists.
The turtle nesting season and whale watching season, both fall in the rainy season. Reasons enough to visit Costa Rica during the rainy season?
But what is it that you should keep in mind when traveling in Costa Rica during the rainy season?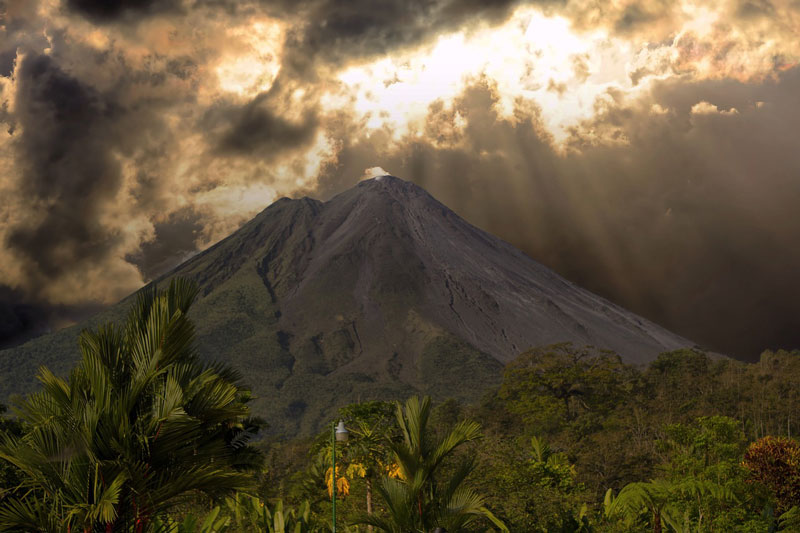 10 Tips For Traveling During Rainy Season
1. Plan your activities in the morning
During the rainy season in Costa Rica, it is generally bright and sunny in the morning and rainy in the late afternoon and night. So, it's better to get up early and cover as much as you can during the day before it starts raining. If you are planning to do an activity like ziplining, or go for a coffee/chocolate tour, schedule it in the morning.
2. Always carry a poncho or a waterproof jacket
Rains are sometimes very harsh in Costa Rica, and carrying an umbrella is just not enough. You definitely need a poncho or a waterproof jacket to prevent yourself from getting wet.
Never underestimate the rains of Costa Rica. Even if it doesn't look like it will rain later, pack a poncho or waterproof jacket in your bag. The weather can change in the blink of an eye, and you may get caught unprepared.
3. Carry a waterproof bag or cover
As mentioned above, it can rain very heavily sometimes, and water may seep in from unexpected places. If you are carrying some invaluable belongings in your bag, you may lose them to rain. Therefore, it's advisable to carry a dry bag or a waterproof bag cover to keep your belongings dry and safe.
4. Pack appropriately
When traveling during the rainy season, you have to be mindful of what you are packing in your bag. Firstly, it may get cold during the evening, and you will need fully covered clothes to keep yourself warm. Wearing fully covered clothes will also be helpful in saving you from mosquito bites.
Secondly, good hiking boots are recommended in case you are planning hikes and long-distance walking. If you are not a fan of hiking boots, ensure that your footwear is fully covered.
5. Bring mosquito repellent
Mosquitos are at their worst during the rainy season. Though carrying mosquito repellent in Costa Rica is recommended throughout the year, you just cannot miss it during the rainy season.
6. Do not drive late at night
When planning your itinerary, it is advisable to avoid keeping night drives in the schedule. It gets dark after 6 pm, and the visibility may be very low due to heavy rain. Moreover, the roads of Costa Rica are known for presenting you with surprises. And if you are not familiar with the roads you are about to take, it is better to skip driving at night.
7. Keep some room in your schedule
In Costa Rica, landslides and washing off of dirt roads are very common during the rainy season. Or sometimes a river rises and the road becomes impassable. Therefore, it is always better not to have a tight schedule. Keep some room for delays and unforeseen circumstances. Things may not go as per plans 100% of the time, and you need to be patient.
8. Beware of slippery surfaces
If you are planning to go on hikes or visit waterfalls that generally involve hiking and climbing up and down stairs, be careful of where you are setting your foot on. Surfaces may get slippery during the rainy season and you do not want to fall and hurt yourself.
9. Rent a car wisely
As mentioned earlier, it is common to face landslides and washed-off dirt roads during the rainy season. Potholes may pop up here and there. So, if you are planning on renting a car, make sure you rent a car that is suited for the Costa Rican roads and has a high ground clearance. Better so, rent an SUV or a 4WD.
10. Bring power backup
In some remote locations and beach towns, power outages are common during the rainy season. So always keep a power backup with you in order to keep your phone charged. Carrying a flashlight or headlamp is also a good idea.