For those of us Globe Aware volunteers who haven't flown in a while, here's a quick run through to help you pack easier!
---
What Is Allowed in a Carry-on Bag?
Follow this guide to pack like a pro and ensure airport security is a breeze.
By Erin Vasta
June 1, 2023
US News & World Report
As all air travelers know, it can be incredibly frustrating to discover you've packed something that isn't allowed through airport security. Whether traveling for pleasure or business, you can make your flight smoother by understanding the restrictions affecting your carry-on luggage. Use this guide to take the hassle out of your next trip.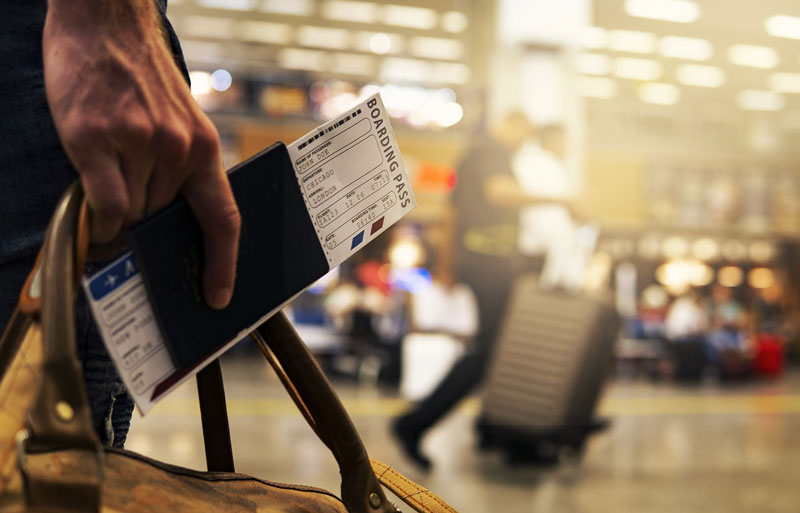 The 3-1-1 Rule or Liquids Rule
Carry-on allowances and restrictions are determined by the Transportation Security Administration. These rules apply to items in carry-on bags (carry-on-sized suitcases, backpacks, purses, laptop bag and mores) that you plan to take through security. The TSA's 3-1-1 rule outlines the travel limitations for liquids, aerosols, gels, creams and pastes. Here's a breakdown:
3: All travel-sized containers must hold no more than 3.4 ounces (100 milliliters) of liquid.
1: All containers holding liquids, aerosols, gels, creams and pastes must be placed within one sealed quart-sized bag.
1: Only one quart-sized bag is allowed per passenger, even if you have multiple carry-on bags for your flight.
Keep in mind that purchasing additional carry-on luggage will not allow you more of these restricted items. Additionally, containers that hold more than 3.4 ounces will not be allowed, even if they are not completely full.
What Is Allowed in a Carry-on Bag?
The following list covers many of the items you're allowed to pack in your carry-on. Read on for more information on each type of item and what limits apply.
Baby items
Sports and exercise equipment
Dietary supplements
Blankets and pillows
Medical items and equipment
Cosmetics
Toiletries
Razors and other hair removal tools
Drinks
Food and snacks
Personal electronic devices and accessories
Smoking paraphernalia
Batteries
Nature-related items
Tools
Solid candles
Umbrellas
Baby items
The top travel priority for any new parent is how to care for your baby while on a flight. While the 3-1-1 rule applies to most carry-on items, you'll be happy to know that items related to the care and feeding of your baby are less restricted. Baby formula, breast milk, toddler drinks, and food for babies and toddlers are considered medically necessary liquids by the TSA, so quantities larger than 3.4 ounces may be packed separate from the quart-sized bag in your carry-on baggage.
Accessories needed to transport these items, such as ice or freezer packs, are also allowed without restriction. These items can be transported even if you are traveling without the liquids or your child, but you must inform a TSA officer at the beginning of the screening process. To make your security experience smoother, TSA also recommends you transport any liquids in clear, translucent bottles rather than plastic bags or pouches. In addition, the following items can be packed in your hand luggage: a baby carrier, a child car seat, baby powder, baby wipes and a breast pump.
Sports and exercise equipment
Whether you are a serious athlete or a casual player, most sports and exercise-related equipment is allowed in your carry-ons. The following sports balls can be included: basketballs, baseballs, footballs, soccer balls, golf balls, bocce balls and bowling balls. Sports cleats and helmets are also permitted. Golf enthusiasts can pack divot tools and tees, but there are restrictions for other golf equipment. If you're headed to a cold climate for some outdoor fun, you can pack your snowboards, snowshoes and ice skates. Crampons are also generally permitted in carry-on bags, but TSA officers can remove them at their discretion.
Your helmet, bicycle chain and bicycle pump can be packed, but bicycles, skateboards, hoverboards and segways may face restrictions based on your airline's carry-on policy. Additional sports and exercise equipment allowed in carry-on luggage includes rollerblades, longboards, boxing gloves, fishing poles, small fishing lures (with sharp objects properly sheathed), pickleball paddles, tennis rackets, foam yoga blocks and yoga mats. Sports equipment that can be used as a bludgeon, such as clubs or bats, is not allowed in the cabin.
Dietary supplements
Dietary supplements, protein powder and energy powders (like pre-workout and creatine) are all allowed in powder or pill form. If you are packing powder-like substances greater than 12 ounces (350 milliliters), be sure to place the containers in a separate bin for X-ray screening. They may require additional screening or need to be opened for testing.
Blankets and pillows
These are not restricted by the TSA. If you don't yet have a travel blanket, U.S. News recommends the BlueHills Premium Soft Travel Blanket Pillow for airplanes. It doubles as a blanket or pillow for the plane. If you have a favorite pillow that you can't imagine sleeping without, have no fear: Pillows can be packed in your carry-on luggage without restriction. Or, consider one of U.S. News' top travel pillows.
Medical items and equipment
Dealing with medical needs can be stressful enough without adding travel. If you're concerned about accommodating your needs, alert your airline at check-in to ensure you have a positive experience. Medications in pill form, including vitamins, are typically allowed without major restrictions, though destinations sometimes have their own regulations. Any liquid, gel or aerosol medications that are medically necessary (including insulin, EpiPens and inhalers) can be transported in excess of the 3-1-1 rule, but you must declare them to TSA officers at the checkpoint for inspection.
Pill organizers are a great option for traveling with basic medication, but prescriptions are best kept in their original packaging or clearly labeled. If your mobility is limited, inform the TSA officer at the checkpoint so accommodations can be made to screen you and your belongings safely and quickly. For more information regarding disability and medical conditions, check out the TSA's website or contact your airline.
Cosmetics
Many makeup products are limited by the TSA's 3-1-1 rule for carry-on luggage. If you are traveling with any of the following, you will need to adhere to the 3.4-ounce restriction: concealer, liquid eyeliner, foundation, mascara, other liquid makeup and makeup remover. Solid and powder makeup are not restricted but will need to be placed in a separate bin for screening if they exceed 12 ounces (350 milliliters). Lipsticks, lip balms, makeup wipes and airbrush makeup machines can be packed in carry-ons without restriction.
The following cosmetics are also restricted by the TSA's 3-1-1 rule: hair gel, hairspray, aerosol hair texturizer, nail polish and nail polish remover. Nail clippers and metal nail files are unrestricted but should be sheathed to avoid injury. Hair styling tools like curling irons and straighteners should have their heating element safely covered if they're cordless.
Toiletries
Since many toiletries are subject to the TSA's 3-1-1 restriction, consider packing your carry-on items in a TSA-approved toiletry bag like one from PACKISM or check out U.S. News' picks for the best toiletry bags. Items subject to the 3-1-1 rule include liquid and aerosol deodorant, cologne, perfume, shampoo, conditioner, dry shampoo, lotion, sunscreen and toothpaste. Outside of your clear quart-sized bag, you can pack your solid deodorant, toothbrush (manual and electronic), tweezers and mirrors. For recommendations on eco-friendly travel-sized products, check out this piece on sustainable travel.
Razors and other hair removal tools
Disposable and electric razors are allowed without restriction, but sharp edges should be securely sheathed to avoid injury. Safety razors are allowed, but the blades must be removed and packed securely in your checked bag. Laser hair removal devices and hair clippers are not restricted, but shaving cream must adhere to the 3-1-1 rule.
Drinks
All drinks are subject to the TSA's 3-1-1 rule, including bottled water, coffee and tea (in liquid form), juices, smoothies, soda, and alcoholic beverages up to 70%. TSA requests that you do not consume your personal alcohol in-flight. An airport's duty-free section is a great alternative to trying to pack alcohol.
If you prefer to travel with your own cup or container for beverages (such as a coffee thermos or water bottle), you will need to ensure it is empty before passing through security. You can fill empty beverage containers on the other side. Ice must be frozen solid when passing through security or it will be subject to the 3-1-1 rule.
Food and snacks
Solid foods are allowed through security but may be restricted by your arrival destination, so be sure to check travel regulations for your destination. Some foods can cause obstructions during the X-ray process, so the TSA recommends you remove food items from your bag before screening. Allowed foods include bread, cereal, cheese (solid), cooked meat, cooked seafood, cooked vegetables (no liquid), fresh eggs, nuts, pies and cakes, pizza, salt, sandwiches, spices (dry), coffee (beans or ground), and tea (dry tea bags or loose tea leaves).
The following food items are allowed but restricted by the 3-1-1 rule: canned foods, cheese (creamy), chocolate (liquid), cream, creamy dips and spreads, gravy, honey, hummus, ice cream, jam and jelly, maple syrup, oils and vinegars, peanut butter, salad dressing, salsa and sauces, soups, and yogurt. Small snack foods can also be taken through security. This includes candy, chocolate (solid), cookies, crackers, dried fruits, gum, popped popcorn, nuts and snack bars. Fresh fruits and vegetables are permitted as long as your destination doesn't have any restrictions on the item.
Personal electronic devices and accessories
Personal devices should be packed in a convenient location in your carry-on luggage because electronics must be removed from your bag and placed in a separate bin for screening. This includes cell phones, desktop computers, digital cameras, laptops and tablets. Consider purchasing a travel backpack with a separate pocket for electronics, like the Solgaard Lifepack Endeavour (with closet), to make security a breeze.
Smoking paraphernalia
Cigarettes, cigars, hookahs, tobacco and tobacco pipes are permitted without restriction, but you are strictly prohibited from using those items aboard most aircrafts. If you do pack these items, make sure any disposable or Zippo lighters are emptied of fuel and that any arc lighters, plasma lighters, electronic lighters, lithium-battery-powered lighters, e-lighters, electronic cigarettes and vaping devices are stored in a way that prevents accidental activation on the plane. This can include removing the batteries and either placing the item in a protective case or using a protective cover, safety latch or locking device. Any e-liquids must adhere to the 3-1-1 rule.
Batteries
Batteries for commonly owned devices are allowed in carry-on bags. This includes dry batteries (AA, AAA, C, and D), lithium batteries, fuel cells and nonspillable wet batteries. Large batteries, such as those used for vehicles or wheelchairs, are typically restricted. If you must travel with a battery of this size, you should speak with a TSA agent and your airline prior to going through security. Additional information on battery restrictions can be found in the Federal Aviation Administration regulations.
Nature-related items
While TSA doesn't restrict natural items like rocks or shells at security, it is important to check the restrictions for your arrival destination as many have restrictions to avoid the possibility of introducing an invasive species to a new environment. Assuming no destination restrictions, flowers can be brought through security if they are not in water. Live corals, live lobsters and live fish can be transported in water if they are in a clear container and have been inspected by a TSA officer.
Tools
Typically, any tools that are 7 inches or less in length are allowed in carry-on bags. Tools exceeding this length are restricted. Keep in mind that sharp objects must be properly sheathed to avoid potential injury. Multi-tools that do not have knives but do contain scissors shorter than 4 inches are allowed, but multi-tools with blades are prohibited.
You can bring one book of safety matches on board, but they must not be strike anywhere. Parachutes can also be brought as carry-on luggage but must be packed separately from other luggage. Flashlights are not restricted but be sure to check that the batteries meet TSA regulations before you pack.
Solid candles
Solid candles are unrestricted, but make sure to check the section below on what isn't allowed in carry-on bags to see what restrictions there are for other candle types.
Umbrellas
These are allowed through TSA checks without restrictions, but you should check with your airline as each may have its own size and weight restrictions. A safe bet is to purchase an umbrella like the Weatherman Travel Umbrella which weighs less than a pound and measures just under 12 long when closed. It also comes with a handy sleeve to keep the rest of your luggage dry when stored.
Additional items
If there's an item you want to bring that you don't see covered in this article, do not fret. You can check with your airline or the AskTSA team for more information.
What Isn't Allowed in a Carry-on Bag?
Here is an overview of items that are not allowed in the cabin when you fly. Check the TSA page What Can I Bring? for a full list.
Alcoholic beverages over 140 proof, or 70%, are not allowed.
Weapons: You cannot bring knives (pocket, swiss army, utility, kirpans, razor-type blades), guns (BB, cap, pellet, compressed air), ammunition and gun powder, axes and hatchets, bows and arrows, firearms and rifles, martial arts weapons, and realistic replicas of weapons in your carry-on.
Weapons (self-defense): These include kubatons, pepper and self-defense sprays, brass knuckles, blackjacks, night sticks, stun guns and shocking devices, and tactical pens.
Explosives: Items creating or replicating an explosion are banned. This includes bang snaps, dynamite, English Christmas crackers, firecracker, fireworks, flare guns, flares, hand grenades, party poppers, sparklers and vehicle airbags.
Certain sports and exercise equipment: Items that can be used as a bludgeon are not allowed in the cabin. TSA restrictions apply to clubs, bats, hockey and walking sticks, canoe and kayak paddles, bowling pins, darts, hiking and ski poles, ice axes and ice picks, shoe and snow spikes, snow cleats, starter pistols, and more.
Certain medical items and equipment: Battery-powered wheelchairs and mobility devices, gel heating pads, and a mercury medical-clinical thermometer cannot be carried on.
Tools: Restriction prohibit box cutters, crowbars, drills and drill bits, hammers, nail guns, saws and screwdrivers longer than 7 inches.
Flammable gases and liquids: Be sure not to pack engines and engine-powered equipment, fire extinguishers and other compressed gas cylinders, fuels, spillable batteries, strike anywhere matches, flammable paints (liquid, gel, spray, aerosol), turpentine and paint thinner, and more.
Safety razor with blades
Gel-type candles
Extra Tips
The rules and restrictions outlined in this article aren't the only things to consider when packing your carry-on. In addition to the 3-1-1 rule, travelers should be aware that some airlines have different regulations on the types of items, liquids, aerosols, gels, creams and pastes that are allowed onboard. This is particularly important when traveling internationally as restrictions differ by country. For example, New Zealand is a particularly restrictive country when it comes to traveling with foods, plants, seeds and grains due to its delicate ecosystem.
Confirm your destination restrictions before packing to avoid difficulties getting through customs when you arrive. TSA agents are also given the authority to make the final call on whether an item is allowed through security, so it's best to pack things you're uncertain about in your checked luggage rather than your carry-on.
Erin Vasta is an avid traveler who has navigated packing carry-on luggage for a variety of trip destinations and durations. Through thorough research and accidental snafus over the years, she's discovered the best ways to take the hassle out of packing. She also loves finding new items and tools that make packing and security a breeze. Recent favorites include her Béis The Carry-On Roller and Solgaard Lifepack Endeavour (with closet).